Sexting
Sexting Charges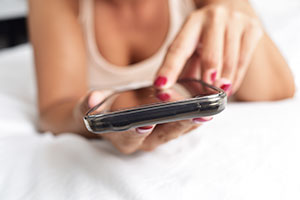 Many parents assume that their own teenager would never sext. They may assume that sexting is prevalent only in teenage populations who use drugs or skip school. However, studies show that sexting is common among teenagers, and many teenagers do not realize that this is illegal in Florida. If your child is accused of sexting or a related crime like child pornography, you should retain an experienced St. Petersburg sexting defense lawyer. At Hanlon Law, we may be able to help you safeguard your teenager's future.
Understanding Situations Involving Sexting
A person under the age of 18 can be charged with sexting under Florida Statutes section 847.0141 for knowingly using a computer or another electronic communication device (like a cell phone) to distribute to another minor a photograph or video that shows nudity or sexual conduct. It is also considered sexting for a person under age 18 to receive or possess a nude image or video harmful to minors that was sent by another person under age 18.
Images that are considered harmful are those that show nudity, sexual conduct, or sexual excitement and primarily appeal to a prurient interest, are considered patently offensive by the adult community, and do not have scientific, political, literary, or artistic value when taken as a whole. Breastfeeding images are not considered harmful to minors.
If the recipient of a sexted image did not ask for the photo, did not send it to anybody else, and took reasonable steps to report the transmission to their guardian, a school official, or a law enforcement official, the recipient cannot be considered to have committed the crime of sexting. In some cases, showing that a minor took steps to report what happened and neither asked for the sexted image nor sent it to anybody else can be a defense to sexting charges. A sexting defense attorney can advise St. Petersburg families on whether it may apply in their situation.
The juvenile justice system is similar to the adult criminal justice process, but it has significant differences. A first sexting offense is treated as a noncriminal violation. This means that a minor can face eight hours of community service, a cybersafety program, or a $60 civil fine. In some cases, a court will impose a combination of these. A lenient approach is taken to a first offense because a minor is considered able to be rehabilitated, and many minors are unaware that sexting is a criminal offense. However, the penalties worsen if your child has multiple sexting violations.
After a first offense, your child could be charged with a first-degree misdemeanor for sexting. For a first-degree misdemeanor, they may be sentenced to one year in jail and a $100 fine. After being charged with a first-degree misdemeanor, your child can be charged with a third-degree felony, which can result in five years' imprisonment and a $5,000 fine. Since receiving a noncriminal violation can result in misdemeanor charges, and misdemeanor charges can result in felony charges, it is often wise to fight the first violation.
It may be possible for a St. Petersburg sexting defense attorney to defend against a sexting charge in multiple different ways, depending on the situation. As with other criminal charges, a sexting charge must be proven beyond a reasonable doubt. In some cases, it is possible to raise a reasonable doubt about one or more elements of a sexting charge. For example, perhaps the images were not sent knowingly. In other cases, sexting is a less serious charge that is part of a plea deal to avoid a more serious charge.
Retain an Experienced Sexting Defense Lawyer in St. Petersburg
Minors have rights, just as adults do. If your child is being investigated for sexting in St. Petersburg, you should retain an attorney to protect their future. Our founder, Will Hanlon, has been providing criminal defense representation since 1994. We are dedicated to guarding the rights of the accused. Call Hanlon Law at 727.289.0222 or complete our online form.