Lewd and Lascivious Crimes
Lewd and Lascivious Crimes Defense Lawyer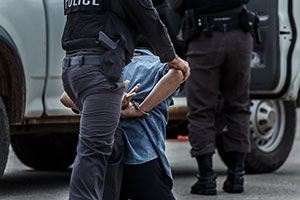 The state of Florida has an interest in protecting minors from the potential harms of sexual activity. There are four different lewd and lascivious crimes that may be charged against you if you become sexually involved with a minor. Importantly, you cannot defend against these crimes by arguing that you had a good-faith belief that the minor was an adult. You also cannot argue that they consented. At Hanlon Law, St. Petersburg sex crime lawyer Will Hanlon understands what is at stake for people charged with battery, molestation, exhibition, or other lewd and lascivious crimes.
Lewd and Lascivious Crimes
You can be charged with a lewd and lascivious offense when you commit certain acts against or around minors, and you have a sensual, licentious, lustful, or wicked intent for doing so. All of these crimes are serious, but the most serious is probably lewd and lascivious battery, which is often known as statutory rape.
To obtain a conviction for lewd and lascivious battery, the prosecutor needs to show that you either had sex with a minor between the ages of 12 and 16 or encouraged someone not yet 16 to get involved in a sexual activity like prostitution, S&M, or bestiality. Lewd or lascivious battery is charged as a second-degree felony. That means that you may face up to 15 years' imprisonment, 15 years' probation, and a $10,000 fine for just a first offense. Unless you meet the narrow Romeo and Juliet exemption for cases in which the offender and victim are quite close in age, you will also need to register as a sex offender.
One step less serious is lewd or lascivious molestation. For this crime, the prosecutor must show that you touched a minor's private parts in a lewd or lascivious way. The punishments for this crime depend on both your age and the victim's age. For example, if you are an adult, and the victim is less than 12 years old, the offense can be charged as a life felony, which means that you can face up to life in prison. With certain prior convictions, you may face first-degree felony charges for molesting a child who is between 12 and 16.
You can be charged with lewd or lascivious conduct for touching a minor in a lewd and lascivious way if you did not touch a private part. You can also be charged with lewd or lascivious conduct if you solicited a minor under age 16 to perpetrate a lewd or lascivious act. Lewd or lascivious conduct is a second-degree felony that carries a potential penalty of 15 years in prison, 15 years of sex offender probation, and a fine of $10,000.
Lewd and lascivious exhibition occurs if a defendant exposes their private parts to a minor in a lascivious or lewd manner. It can also be charged if they masturbate in front of a minor under age 16. This is usually charged as a second-degree felony.
In some cases, an attorney can challenge these types of sex charges by attacking the evidence. There may not be enough evidence, or perhaps the credibility of the witnesses is suspect. In other cases, there are constitutional violations that would allow some of the evidence to be suppressed so that the prosecution cannot meet its burden to prove the charges beyond a reasonable doubt. In other cases, it is possible to present a different version of what happened to the jury. For example, perhaps a minor misinterpreted what happened. There may also be a basis to secure a plea deal for an offense that does not require sexual offender registration, such as child abuse.
Seek Guidance from an Experienced Sex Crime Attorney in St. Petersburg
If you are accused of a lewd and lascivious crime in St. Petersburg, you must take this accusation very seriously and contact a St. Petersburg criminal lawyer right away. Our principal, Will Hanlon, has represented criminal defendants since 1994. Call Hanlon Law at 727.289.0222 or complete our online form.